About Katlatrack
Katlatrack was established by Guðjón Þorsteinn Guðmundsonin in the spring of 2009.  It was the first licenced company to offer tours in the area surrounding Katla, Iceland's most powerful volcano.
Guðjón was born and bred in Mýrdalur in the county of Vestur-Skaftafellssýsla, South Iceland.  As a passionate mountaineer, he has a vast amount of knowledge about the local area and its unique landscapes.  Guðjón formed Katlatrack as a way to show visitors to Vik the amazing offbeat locations that surround the Katla Volcano.  Rather than visiting the typical tourist spots, he wanted to take people off the beaten path and show them the real Iceland, and the hidden gems that most never get to see.
Today Katlatrack has grown and Guðjón is joined by five additional guides, along with his wife Sæunn, who takes care of Katlatrack's guest services.  All of Katlatrack's guides are proud locals, trained Super Jeep drivers and experienced glacier guides.  They each share Guðjón's passion for the local landscape, its history and its folklore.  And while the company has changed, Guðjón's original goal remains the same – to show visitors to Iceland something more than the usually overcrowded tourist hotspots, and share a side of Iceland that very few will ever experience.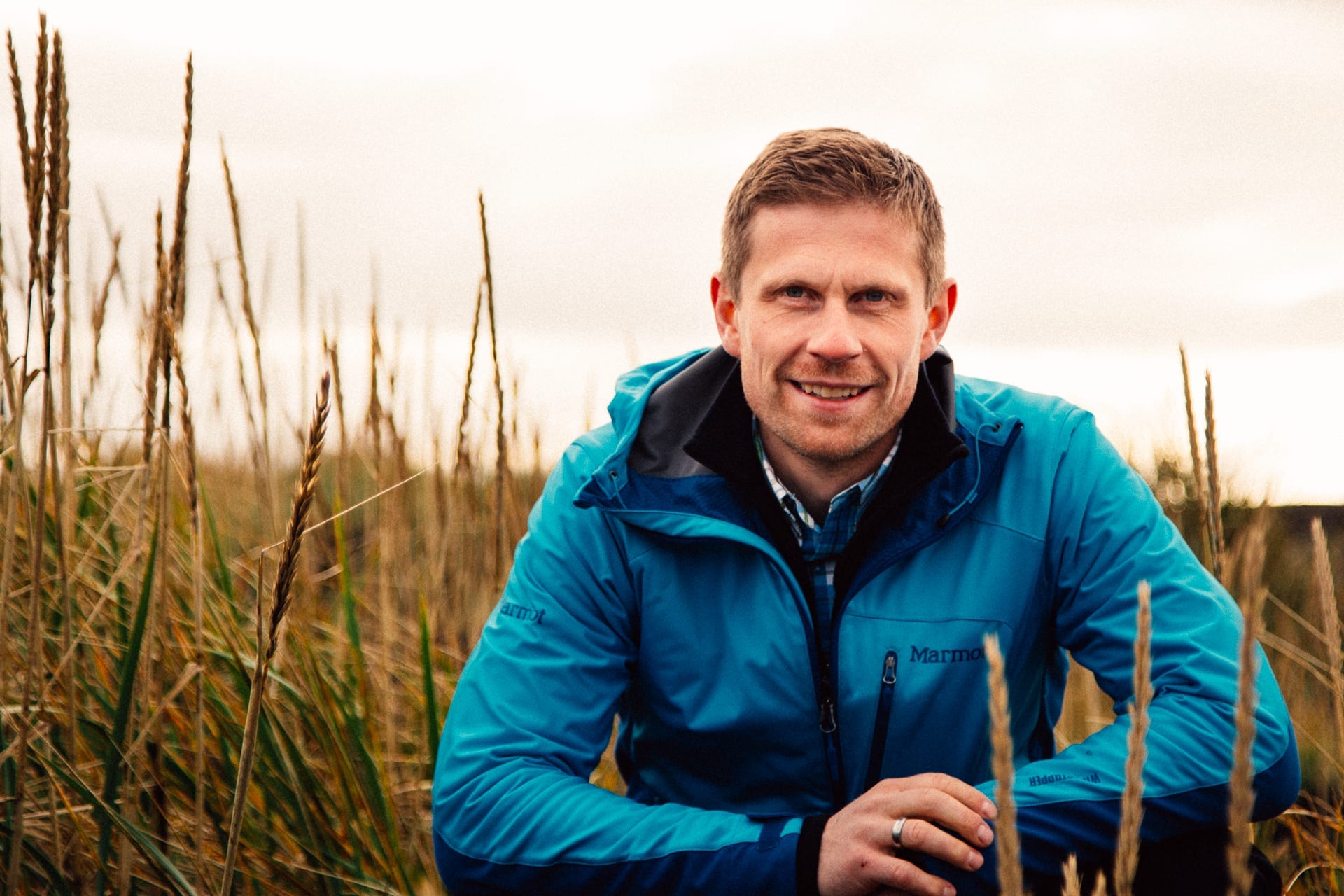 Guðjón Þorsteinn Guðmundson
Owner of Katlatrack
Meet the Katlatrack team!
Why choose Katlatrack?
We are proud locals of Vik in South Iceland, home to some of the most dramatic, jaw-dropping scenery that Iceland has to offer.  Our aim is to show you a side of Iceland that you won't see on other mainstream tours.  Super-secret spots and private locations are our specialities, and you'll only experience them with a Katlatrack guide.
Small Groups and Unique Itineraries on our Super Jeep Tours of Iceland
Our unique itineraries take you off the beaten path where you'll discover some truly magical sites and make memories that will last you a lifetime.
Super-Secret Caves
Frozen Waterfalls
Ancient Lava Fields
Haunted Mountain Huts
Bubbling Geothermal Areas
Wild and Wonderful Rock Formations at Sea
Other-Worldly Landscapes
Shimmering Blue Ice Caves
Hidden Mountains
Secluded Black Sand Beaches
A Sub-Glacial Volcano, and so much more.
Our 4×4 super jeeps can transport you right to the heart of the action.  This allows us to visit many spectacular locations that tour buses simply can't access, including some locations that you will only see on a Katlatrack tour.  It also means that you won't have to share the experience with 40 to 50 other guests.  We only host small groups on Katlatrack tours, so you're always assured of our personal attention.
Local Guides with a Unique Perspective
We know South Iceland like the back of our hand and we are constantly exploring and discovering new locations to share with our guests.  We love to uncover super-secret areas, most of which are on privately owned land.  Thanks to our local contacts we are the only tour operators who can take tour guests to these locations.  This also means that you will often get to explore many of our locations in complete privacy, without a tourist in sight.  You'll leave with the feeling that you've just discovered a secret part of Iceland for the very first time!
Because we are locals, we also love to share the history and the ancient folklore of our home.  Every location that we visit in Southern Iceland has an interesting backstory that only a local can share, so ask us as many questions as you like!  We're also happy to recommend a great spot for dinner, somewhere to shop, a hot spring nearby, or anything else you might need.
Your Safety Comes First, Always
Driving in Iceland often means driving in heavy rain, gale force winds, storms, blizzards, thick fog and snow. After all, we wouldn't have this spectacular landscape without Iceland's extreme weather! Katlatrack's guides are confident and highly experienced in all conditions.  All of our guides hold commercial driver's licenses and they are also extensively trained in 4×4 driving and maneuverability.  We have state of the art navigation equipment on board all of our super jeeps and each of our guides is fully trained in First Aid procedures.
Because we know the local landscape so well, we are uniquely positioned to foresee unsafe conditions in advance.  We know how the rivers and streams behave, and we know what it means when the tide suddenly changes, or the wind blows from a certain direction.  Our superior local knowledge means that we can quickly move to a 'Plan B' if the conditions aren't favorable for your tour.  (Don't worry, we have plenty of incredible offbeat destinations up our sleeve.  Your 'Plan B' tour will be just as epic as anticipated!).
And unlike some tour operators in Iceland who often use other operators to conduct their local tours, Katlatrack tours are only ever hosted by Katlatrack guides.  When you book with Katlatrack, you can be certain that we will personally host your tour.  You can rest assured that you'll experience the very best of South Iceland, complete with our extensive local knowledge, our impeccable safety standards, our access to private offbeat locations, and our personal care and attention.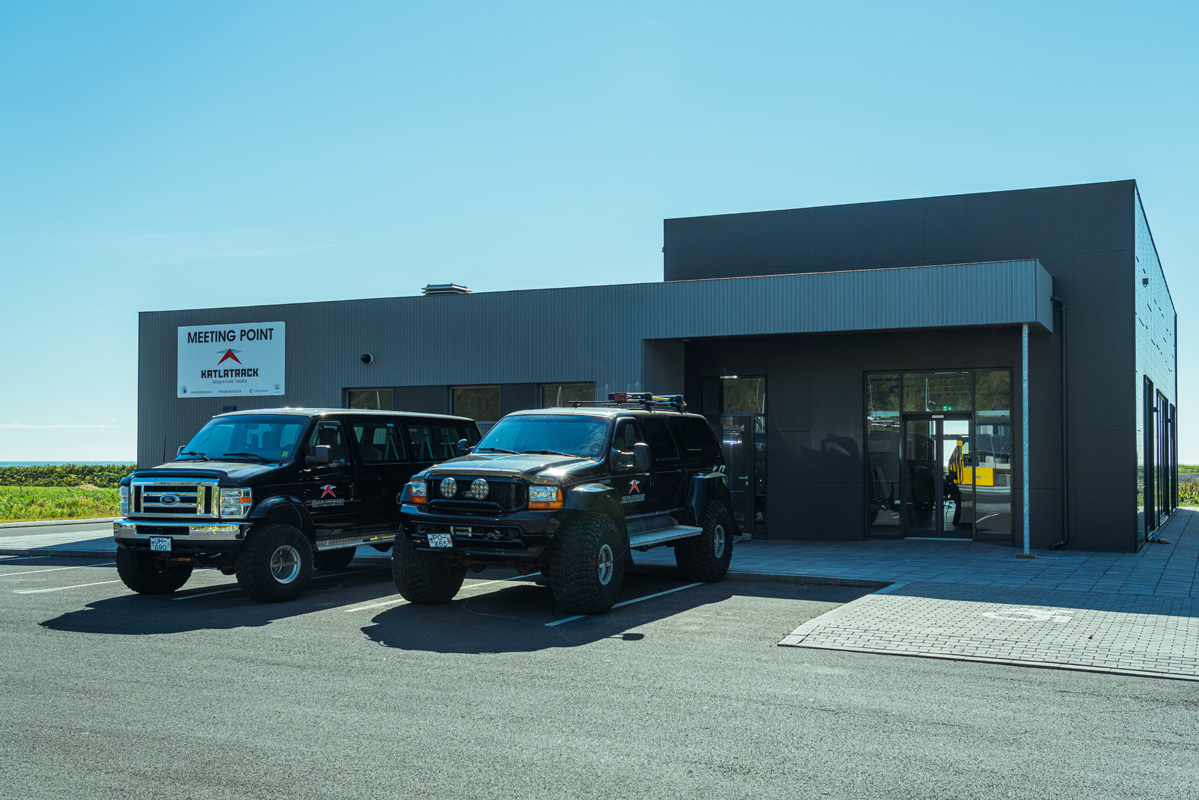 Katlatrack meeting point
Meeting point in Vík is next to the OB gas station in Vík. The address is Austurvegur 16, 870 Vík.
You can find us on Google Maps under Katlatrack. Our super jeep is parked in front of the building – in front of the " KATLATRACK MEETING POINT" sign.
Katlatrack meeting point
Meeting point in Vík is next to the OB gas station in Vík. The address is Austurvegur 16, 870 Vík.
You can find us on Google Maps under Katlatrack. Our super jeep is parked in front of the building – in front of the " KATLATRACK MEETING POINT" sign.