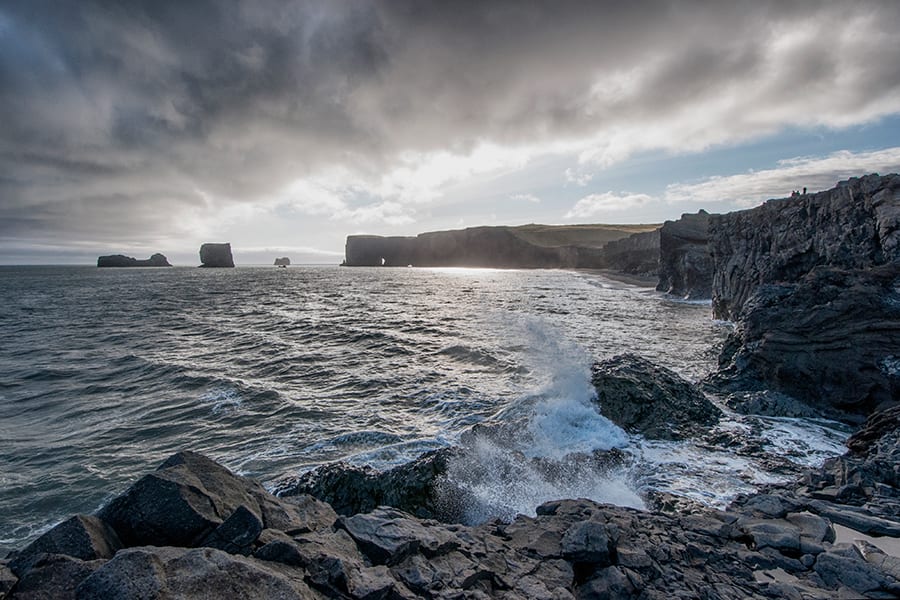 Welcome to our hometown, Vik!  It's a town where only around 750 people live on a daily basis.  So to say we all know each other is pretty darn true!  When you drive down the mountain and into the town, you get a sense of excitement but still with the underlying, small town charm and hospitality. Vík is the perfect town to visit on your drive around Iceland. It's located right on the ring road, a relatively short drive from Reykjavik, and if you want to stay for more than one day there are plenty of hotel rooms available in town!
But what makes Vík truly special is the sheer amount of unique adventures you can go on from there. We are surrounded by glaciers, canyons, mountains, sand dunes and beaches. So no matter what sort of adventures you are interested in, you are sure to find them in Vík! Below is our guide to the best sights to see and the best unique and offbeat things to do in Vik, Iceland.
 1 – Visit the top of Reynisfjall mountain
The best possible first impression of Vík is getting to see the entire town, and the incredible environment surrounding it, from above. The ideal vantage point for that is our local mountain, Reynisfjall. Standing over 1,000 feet tall, the flat topped mountain overlooks the famed sea stacks on the black sand beach of Reynisfjara to the west, and the entire town of Vík and its surrounding glaciers to the east.  
There are a couple of ways you can get to the top.  The first one is by hiking the 1-2 hours (one way) up the mountain.  For those of you who want to travel in style, you can  book our signature Best of Vík super jeep tour. In it, we take you to the top of the mountain, tell you about the town and its surrounding area before driving back down the rough 4×4 road. Due to the short duration of the tour, it is also the cheapest super jeep tour in the entire country!
2 – Visit the hillside Vik church
If you find yourself self-driving in Iceland the ring road.  Few things are more iconic than Víkurkirkja (Vik i Myrdal Church).  It was built in 1932 and has stood strong against the wind over time thanks to her concrete walls.  The hillside church in Vik has enough seats for 200 people.  The view from the mountain the church sits on is gorgeous overlooking the charming small town.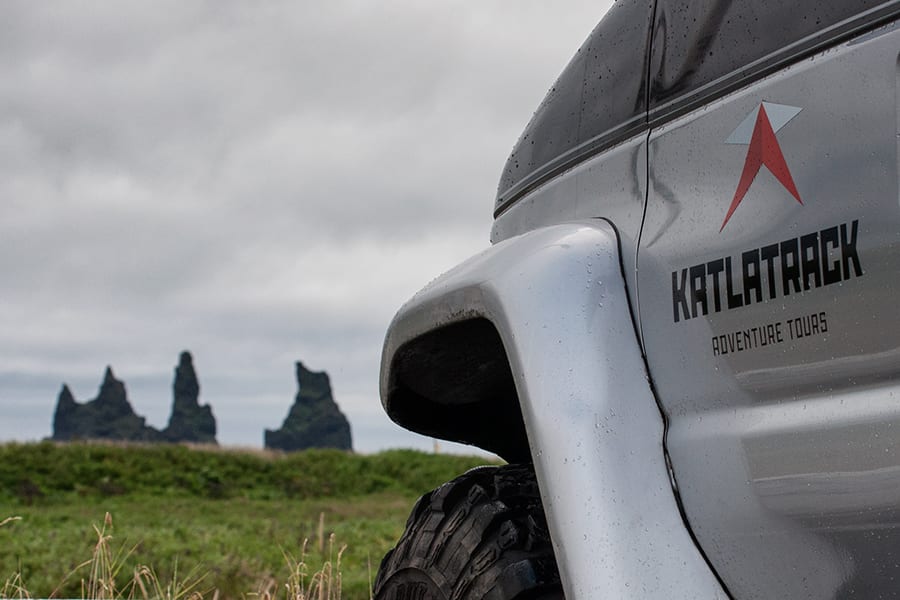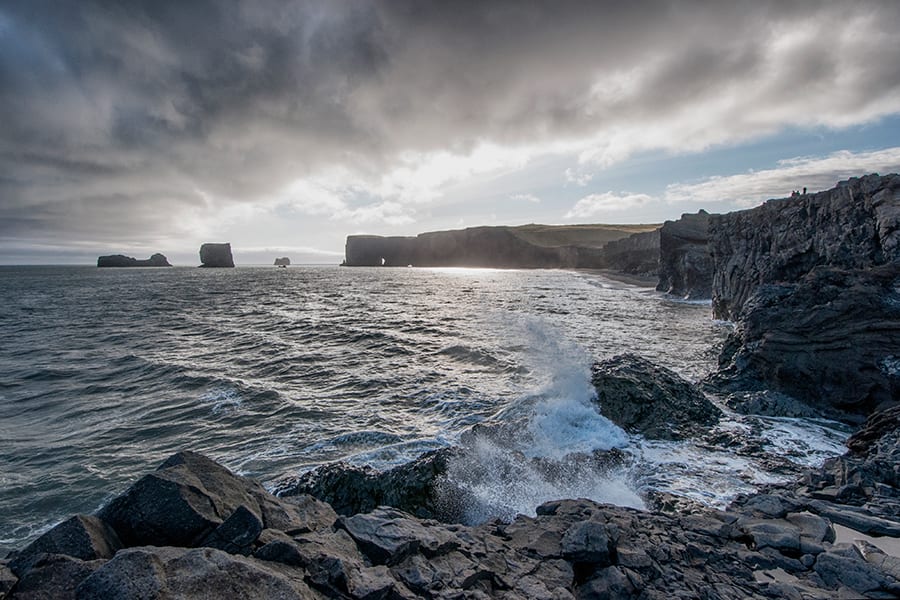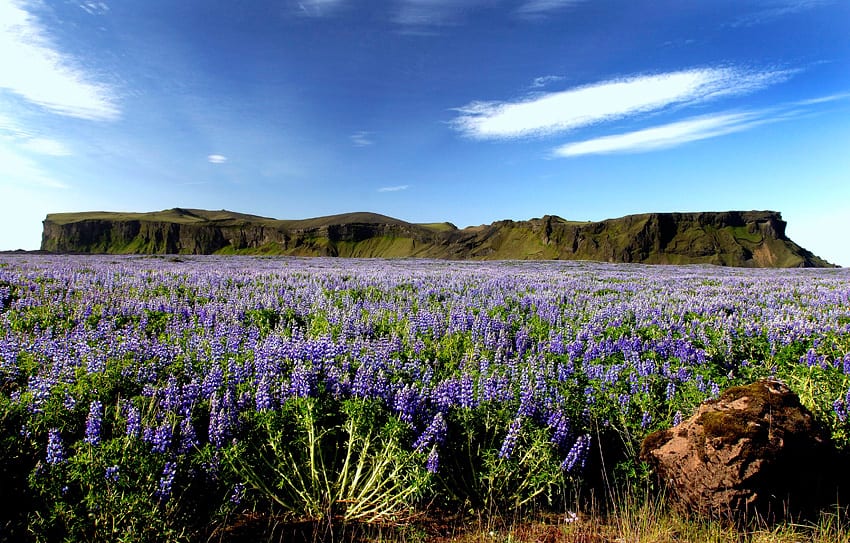 3 – Explore caves and Learn about their local folklore
The geography surrounding the southern glaciers in Iceland means that the area is scattered with hidden caves
By booking one of our custom tours, we can take you to countless local caves that can be very hard to find otherwise.  As we explore them, our guide will tell you about the folklore stories that come with!  For those who want to try something completely different, this is one of the best things to do in Vik.
4 – Adventure to an ice cave!
This is the big one! Some of the best ice caves in Iceland can be found in the Kötlujökull outlet glacier that juts out from the mighty Mýrdalsjökull, the fourth largest glacier in the country. If visiting an ice cave is one of your bucket list items, there aren't many places better than Vík. 
The Icelandic adventure experience is focused around visiting awe-inspiring locations that are hard to reach ny normal means, and the Katla Ice cave tours are no exception. Many of our tours, like the FastTrack Ice Cave and Katla Glacier Ice Cave tours combine breathtaking ice caves and exciting super jeep journeys to their location.  And as locals, we are always on the lookout for more types of ice caves so we have somewhere exciting to take you year-round!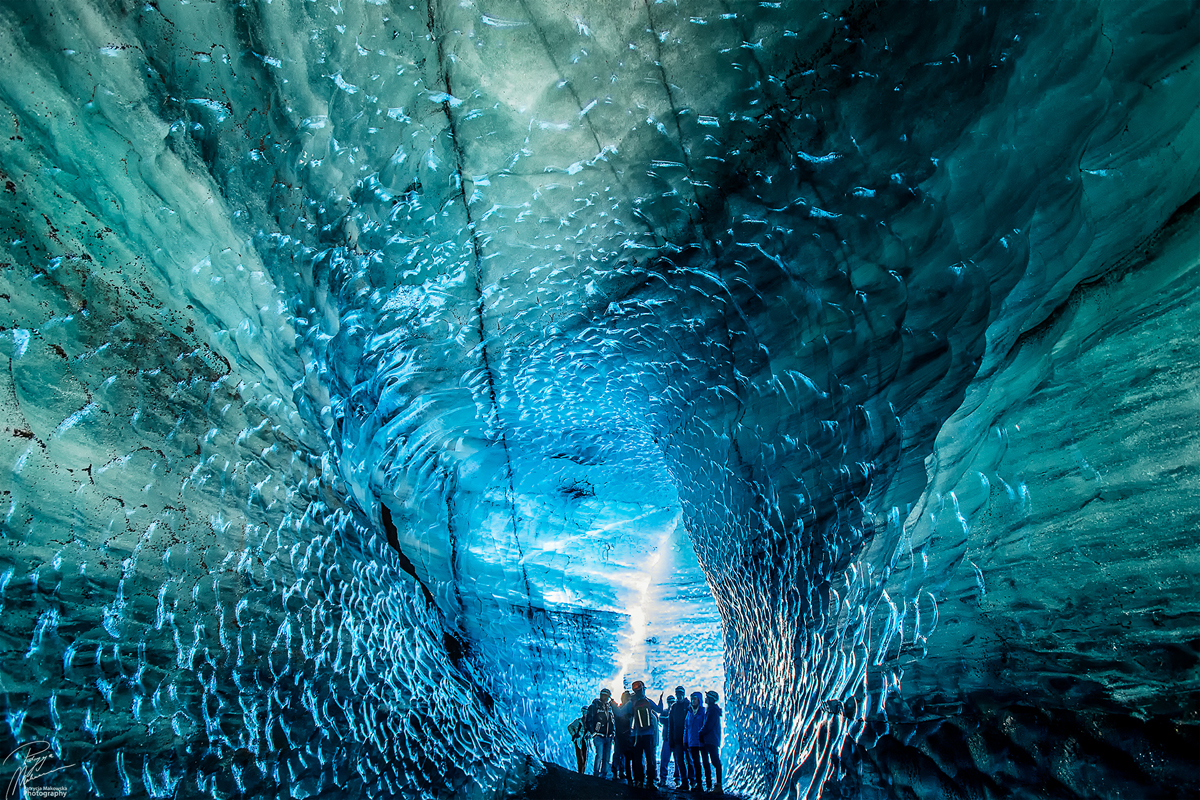 5 – Reynisfjara Black Sand Beach
An obvious pick, for anyone who has done even a tiny bit of research, and for good reason too! 
Reynisfjara Black Sand Beach is not only stunning for the sand and the caves, but primarily because of the basalt columns emerging from the sea!  The area will leave you inspired.  Special Note: This area can be quite dangerous with sneaker waves so please do not go near the water and beware of what the tide is doing.
6 – Journey to a Viking tomb!
No joke folks!  One of the first settlers is buried on top of a nearby mountain in Vik.  So if you are game for a hike that is about 1 hour or less depending on your pace, we recommend as a thing to do in Vik is to visit a traditional Viking tomb.  You will drive 10 minutes east from the heart of Vik until you see a sign on the right saying "Hjörleifshöfði." 
Do not drive here in your standard rental car during winter (snow levels can be high).  Follow the well-driven track (DO NOT OFF ROAD) until you see the next sign on the left pointing you towards the parking lot.  Follow the path that leads to the top of the mountain and there you will find one of the first settlers buried in the traditional Viking tomb way.  There will likely not be many people there as it is an offbeat thing to do in Vik Iceland.
7 – Visit the Dyrhólaey Lighthouse and Sea Arch
If you're a Game of Thrones fan or natural beauty, you will love visiting Dyrhólaey.  It overlooks a gorgeous view of the Atlantic Ocean.  During summer this place is full of all sorts of birds nesting and catching their dinners.  There is a historical lighthouse, lovely sea arch, and endless views that offer fantastic photo opportunities!
8 – Visit Þakgil canyon
Þakgil (or Thakgil for those without an icelandic keyboard) is one of the best hidden gems in the entire region. A huge, mossy canyon with numerous natural caves, vistas, hiking trails and picnic locations. As locals of the area we believe this is an absolute must-see and there is no better way than going on our Þakgil buggy tour with one of our local guides.
9 – Explore the Hidden Mountains
After this long list of what to do in Vik Iceland, you might be after something even more offbeat in a super jeep, maybe?  Our Katlatrack super jeep would love to show you a mountain areas only locals go!  If you book our Hidden Mountains tour, you will experience an awe-inspiring area very few people have laid their eyes on.  It will feel so fresh and new that you'll want to plant a flag in the ground with your names on it saying you "just discovered it"!
The natural beauty of Vik South Iceland will leave you always wanting more.  There is so much to see and do, especially during the summer months when all of the highland roads are open.  Our Vik based super jeep team would love to share our local knowledge and addiction to adventure with you by showing you the pure side of Iceland.  We hope today you have enjoyed this Iceland travel blog post on 25 things to do in Vik!  Feel free to contact us on planning your own unique adventure exploring all that you wish in Vik!!
Your Adventure Awaits,
Guðjon + KatlaTrack Team