Super Jeep Tours in Iceland | Katlatrack 
Super Jeeps rule the road here in Iceland.  When you see one pass by, you look.  In fact, everyone looks!  They are so badass to adventure around in.  But for our Katlatrack team, our super jeep tours in Iceland are raw, real and local.  We don't ever stay on the main road and go to tourist locations in them.  Rather, we'd like to introduce you to the offbeat sides of Iceland! 
Why a Super Jeep is the ONLY way to Experience Iceland
Chances are you've stumbled upon this Iceland Super Jeep Tours post because you've been here before and or you were seeking something different.  With how popular Iceland has become in the Instagram world, it wouldn't surprise us if a lot of your friends and family have visited Iceland already.  So maybe for your visit to Iceland, you were looking for to really talk about and I dare to say even "one-up them!"  You've come to the right place… Planning an Iceland 4×4 tour with our super jeep team will do it! 
The only way to experience the pure, untouched, wild side of Iceland is to get up and into the Icelandic Highlands.  It's a rugged area that we believe requires an experienced and professional driver.  Mainly due to the fact that there are numerous glacier river crossings, landslides, and road deterioration (because the roads are not serviced).  Not to mention, it is also best to have a local guide with you to know and understand how the area is changing, like the glacier.  As it can be a dangerous place if you do not have that right knowledge and gear!
Imagine yourself rolling up to our meeting spot in Vik and jumping into one of our badass super jeeps!  No matter the weather or season, our tours go!  And prepping before you come can be key to a super jeep tour in the highlands, so make sure you head back to our What to Pack for your Vik Iceland Super Jeep Tour!  From the moment we turn off of Route 1 and venture into the highlands the energy is high!  That's just it, a ride in the super jeep on private roads, tracks, and F-roads is a mind blowing 5 senses EXPERIENCE!  
What to look for when choosing a Super Jeep Tour Operator
Choosing a Super Jeep Tour operator in Iceland can be tricky as there are several websites that are booking agents only.  And although that is a fantastic way to book many aspects of your trip, you may find booking directly with an Iceland super jeep team is better suited for you to ask questions, etc.  When researching between South Iceland super jeep tour companies, here are several aspects you want to make sure you know before booking:
Solid Reviews on a third party website (like Trip Advisor or Google). And look at the lowest ones.

Professional trucks (are they rust buckets?) and gear (as needed like crampons, helmets, headlamps, etc).

Locals operating the tours.

Licensed and experienced drivers with navigation systems.

Size of the groups.

What they say to wear and pack during the Iceland super jeep tour.

The experience (compare what they put on their website to the previous reviews).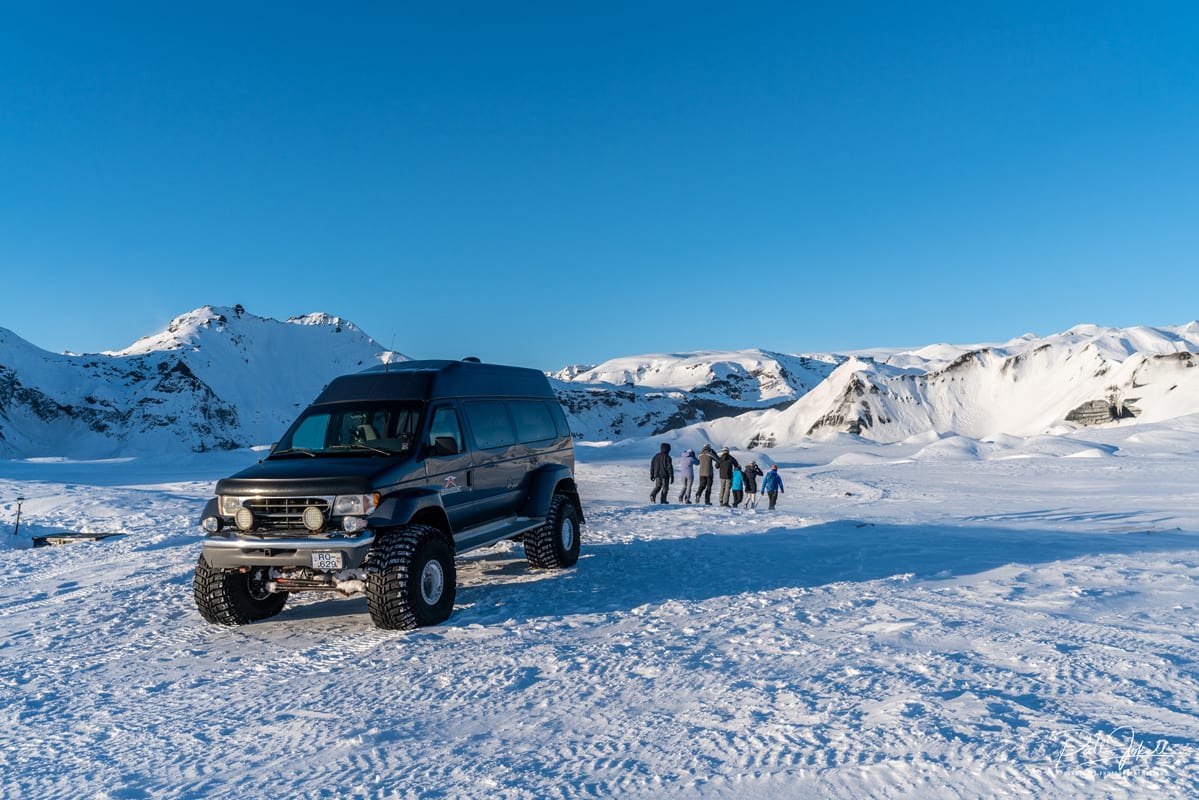 Take a Super Jeep Tour with Katlatrack:
There are so many textures and tones throughout the Icelandic landscape.  What type catches your attention the most?  For example, if you're hoping to visit an ice cave during any season in Iceland, we offer our regularly scheduled Katla Ice Cave Tour via our super jeeps.  If ice caves aren't your thing, we have an incredibly unique Hidden Mountains super jeep tour you should check out!
And if you find yourself with less time or money, we offer a more budget minded option too called the Fast Track (no frills).  But, booking a super jeep tour in Iceland with our Katlatrack team ensures you will have an unforgettable experience!  So today we would like to share with you 10 reasons why that'll happen during your Vik super jeep tours with us:
1- Local Experience & Knowledge:
Our driver guides are Icelanders and have been out adventuring and scouting all around the Vik Iceland area from our very first memories as children.  Our tracks were set decades ago with permission from the local landowners, village, and government and we remain up to date on all permissions.  While on one of our custom or open tours, you'll also delight in hearing local history, geology and folklore stories.
Additionally, our driver guides are experienced in driving the routes for years.  If weather becomes a problem, all of our super jeeps are equipped with GPS systems with the routes saved.  This can be a day saver if conditions become challenging.  Could very well be the difference in getting stuck or not during your super jeep day trip. 
2- Our Team:
Our team are not just "drivers."  Part of our local experience during our super jeep (4×4) tours is the personality of our guide.  They are passionate about the areas, they are full of local knowledge and their enthusiasm is contagious!  Not to mention they also have all of the proper driving certifications to safely and legally drive you. 
Fun Fact: Part of our training for our Iceland Ice Cave Tour guides is to see how many times they can get stuck in a day (without guests) and how fast they can get unstuck.  Because let's be honest, if your super driver has never gotten stuck he's not a real super jeep guy!  You will want someone who is experienced in all types of weather situations, have a plan ready for worst-case scenarios, can navigate through it flawlessly, safely, and keep you calm in the process.
Another defining factor is that more than half of our team is part of the Iceland SAR (Search and Rescue) team.  So how does this benefit you?  Because we always plan ahead and go in with your safety in mind whether it is on the way in the super jeep or at the glacier area. 
Our guides have often been first responders to high pressure / stressful rescue missions involving glacier or mountain rescues when hikers have lost their way or hurt themselves in some way.  They understand how to keep someone calm, stabilize the situation, and react quickly.  And the few guides who are not formally apart of the SAR team are still trained to our company's high standards in first aid.
Fun Fact: One of our super jeeps is actually one of the old Vik Iceland SAR team trucks!
3-  Offbeat and Unique Locations:
It's been our mission since 2009, to show travellers to Iceland something more than the usually overcrowded tourist hotspots.  Likewise to also share a side of Iceland that very few will ever experience.  Come see Iceland from a local's perspective on a super jeep private tour in Vik! 
4- Speaker System:
It's a priority for us to ensure your super jeep tour experience is enhanced by being able to here our guides tell you about the local area and folklore.  We do this by having all of our super jeeps rigged with mic/speaker systems so you do not miss out during your Iceland adventure tour with us!
5- Reliable and Maintained Trucks:
Our Katlatrack team takes pride in having safe and dependable 4×4 Super Jeeps for you to adventure in.  The fleet is carefully maintained by our guides and/or other professional mechanics that specialize in highland vehicles.  Having a super jeep requires a lot of require maintenance and we never skimp on doing this.  But know, in the rare occasion something does happen, we have plan "b" ready to put into action!
6- Approved Glacier Gear:
It's important to us that you stay safe.  At the beginning of our super jeep adventure tour in Vik Iceland we provide you with approved glacier gear.  So what does that mean?  It means you're going to get a helmet, crampons and headlamps that professional mountaineers may have in their gear bags. 
7- Small Groups:
We're a small company, so we take you on small group tours to keep the experience personal (typically you can expect 2-12 people).  Because come on, who wants to visit an ice cave with 50+ other strangers?!  And if you want an even more of a private experience, check out our custom tours. 
8- Our Iceland Travel Blog:
Katlatrack Adventure Tours, not only wants to be your number one choice for super jeep tours in Vik Iceland, but we also want to provide you with helpful information on visiting the area.  So rather than blogging about areas outside of Vik Iceland, we remain true to our area.  It's our mission to go beyond the tour and allow you to learn about the local culture of Vik (Fun Fact: Did you know we are only a village of 300ish people?)!  Check out our previous post on Things to do in Vik! 
9- Katlatrack Reviews:
We are tried and true.  Our business is only run in the Vik Iceland area (we are often referred to as experts in our territory).  You can see for yourself that our team has countless reviews on Trip Advisor and also on Google.
10- The FUN You're Going to Have:
You're not going to want leave us!  Between the amazing offbeat areas we are going to share with you, the stories, history, and the vibe our tour just in general has you're going to want to keep hitting the REWIND button on your adventure!
We dare you to craft your very own adventure full of secret waterfalls, hidden volcanoes, movie locations and more… Or let our team create it for you via a private tour in Iceland!
So ditch the usual hot tourist spots like the national parks and book on of our small group Iceland jeep tours!  See the real Iceland with our local guides. Maybe you'll visit a dormant volcano, an iconic black sand beach, a stunning waterfall emerging from a glacier and much more.  We'd love to show you our local area of Vik, ice caves, and even build you a custom tour.  Feel free to contact us for more information on getting that adventure started!
Your Adventure Awaits,
– The Katlatrack Super Jeep Team in Vik Iceland