Katla Ice Cave Tour in Iceland
Incredible Ice Cave and Glacier Adventure Tour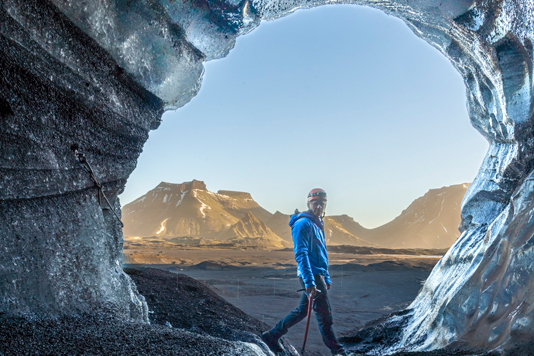 Tour description
Experience the magic of Iceland! The Katla Ice Cave Tour in Iceland brings you on an excursion to the ice caves, blue glaciers, black sand beaches, world-famous sights, and so much more. Explore Iceland's landscape by jeep and by foot on this unforgettable guided tour.
Availability
All year round, based on condition
AGE LIMIT
The minimum age for this tour is 12 years old
Includes
Licensed ice cave guide, super jeep transport & all required glacier safety equipment.
What to bring
Warm clothing (according to the weather), hat, and gloves. Hiking shoes or snow boots (required). 
Keep in mind
This tour might not be suitable for people who are sensitive to motion sickness, or suffer from a back injury. More details on this can be found in our FAQ section below.
Tour Highlights
Stops at 1-2 Natural Ice Caves based on the conditions of the glacier
Adventurous Super Jeep Excursion
Experienced Local Guides
Off-the-Beaten-Path Experience
Small Tour Group
Visit to Private Black Sand Beach
Hike through unique glacier area.
BOOK TOUR
Depart from Vík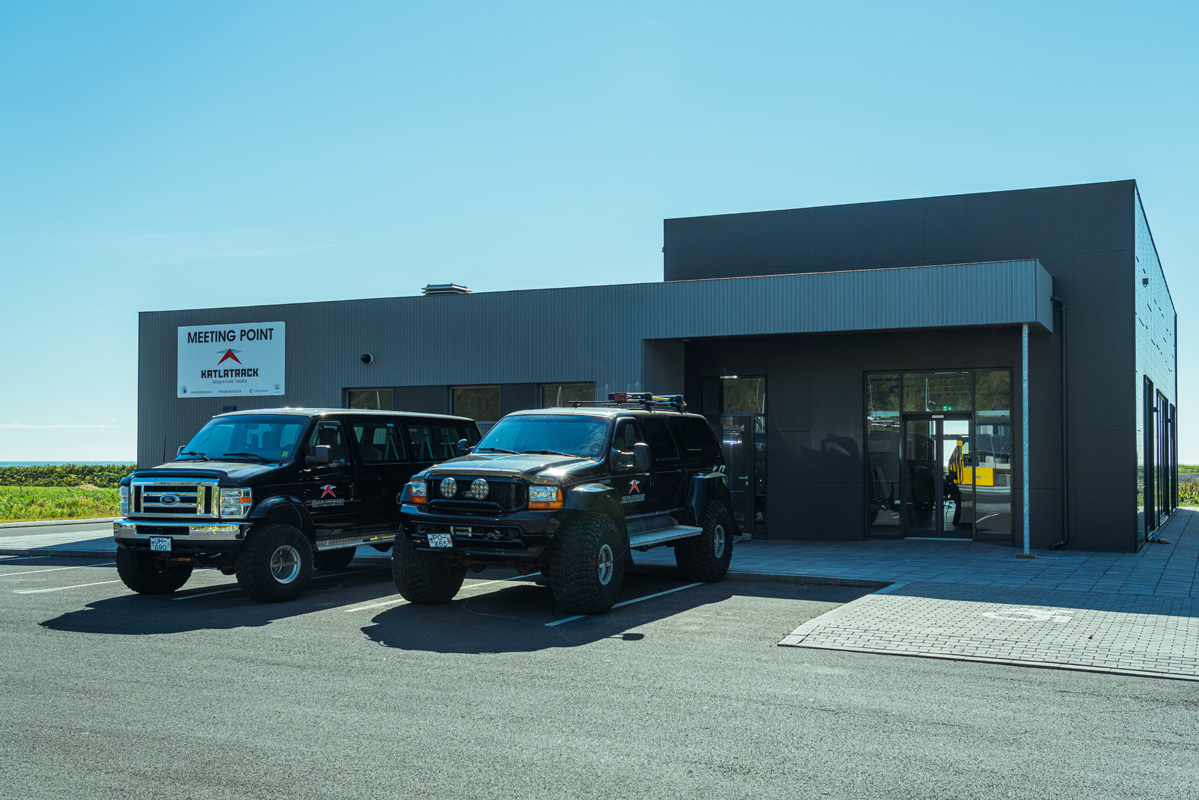 ABOUT THE KATLA ICE CAVE TOUR IN ICELAND
Looking for the best ice cave tour in Iceland? Get ready for an unforgettable experience with our unique Katla Ice Cave Tour and Glacier Excursion.
You'll experience many natural wonders on our ice cave tour, including an ice cave in 800-year-old Katla glacier with black, white, and blue ice, a visit to a private black sand beach where you would be all alone without crowds, and a super jeep ride through iconic film set locations. There's never a dull moment, so expect to see many more exciting highlights along the way!
OFF-THE-BEATEN-PATH ADVENTURE
This is no ordinary sightseeing tour! Our trusted local glacier guides will take you well beyond the usual tourist spots and show you pure Iceland – a magnificent side of Iceland's nature that very few visitors will ever experience!
At Katlatrack, we pride ourselves on offering a truly offbeat experience that shows you the real Iceland rather than the overrun tourist hot spots. South Iceland is home to some of the most magnificent scenery that Iceland can offer, and it is also our home. Our local knowledge makes us one of the only tour companies who can offer Iceland ice cave tours all year round. 
EXPERIENCED LOCAL GUIDES
As locals, we are fiercely proud of our home, and we love to share the story of our landscape, its history, its hidden gems, and its fascinating tales! We also appreciate how unpredictable and potentially how dangerous this landscape can be. Each and every Katlatrack guide is both highly trained and highly experienced in all weather conditions – both on the road and inside the ice caves.  
As locals, we know this landscape inside out, and we can easily switch to a 'Plan B' location if the current conditions are unfavourable or unsafe in any way. We also reserve the right to cancel the tour if the conditions are simply too dangerous. Your safety comes first at all times!
ONCE IN A LIFETIME EXPERIENCE
This is not an adventure for those who are claustrophobic (or scared of the dark!), but it is most certainly a once in a lifetime experience for those who have endless curiosity and the desire for exploration running through their veins! 
We can't wait to show you Iceland our way, so pack your warmest winter layers, your camera and your snow boots or hiking shoes and book this tour today. We've saved a seat in the jeep for you!
SCHEDULE – ICELAND ICE CAVE DAY TOUR
Our day begins at the Katlatrack meeting point in Vik.
From here, our small group will climb into the super jeep and head high up into the mountains for an exhilarating ride towards the glacier. Along the way, you'll get to admire the distinctive green mountains and many other spectacular sights, tones, and textures as we make our way through the glaciers and ice formations.
The first stop is at the front of Kötlujökull – the Katla outlet glacier.
Kötlujökull is actually part of the famous Mýrdalsjökull glacier – the fourth largest glacier in Iceland. Your safety is paramount at all times on a Katlatrack tour, so we will pause here and your glacier guide will fit you up with some loan equipment (a helmet, headlamp, and crampons) and provide you with a full safety briefing.
From here, it's a fun short (20-25 minutes based on the weather conditions) glacier hike across the ice to explore your natural ice cave!
You'll marvel at the magnificent colours and textures inside the ice cave, and the crazy shapes and crystal ice will leave you in awe. Your Katlatrack guide will share the history of the Iceland ice cave and explain how it was formed. You'll learn how the volcanic eruptions of the Katla volcano caused the ash and sand to combine with the ice, to form the incredible shades of black and blue that appear almost like 'dragon glass'. There will be plenty of ice cave photo opportunities, and plenty of time to ask questions and learn all you wish to know about these magnificent icy structures.
After some time in the cave and its surroundings, we'll take another short glacier walk as we hunt for secret waterfalls and hidden glacier canyons
You may have heard that visiting an ice cave is a "Once in a lifetime experience" – this couldn't be more true, and we love nothing more than sharing this very unique experience with our guests! Iceland's ice caves are constantly shifting and changing with the seasons, so the caves that you will experience on your glacier tour will never exist in the same form again. We are always scouting the glacier ice for new and hidden caves, so we know exactly where to find the most spectacular (and the safest) ice caves to show you on our tours. Some of these caves are on private land that can only be accessed with a Katlatrack guide, so it is also possible that your tour will include a visit to a secret ice cave. Based on the weather and depending upon the current conditions on the glacier we will do our best to show you some hidden gems of the glacier. 
After our ice-caving adventure, we'll head back to the super jeep
…for our next destination as we drive through the actual film set from Star Wars Rogue One. You'll see exactly where the opening scenes were shot as your guide shares all of the behind-the-scenes details. We then take in some more filming locations on our way home, as we visit the film sets of some other favourites, such as Transformers, Noah, and Oblivion. Along the way, you will also enjoy some other memorable sights from the comfort of the jeep, including the historical promontory of Hjörleifshöfði (named after one of the first Viking settlers in Iceland), the distinctive Reynisdrangar sea stacks, and of course, the beautiful local area around Vik.
Finally, our jeep then takes an exciting detour
…through the wild terrain onto a private black sand beach. You will already be very familiar with Iceland's most famous black sand beach, Reynisfjara, and we definitely recommend that you explore this beach in your own time. However, in true Katlatrack style, we prefer to take you off the beaten path on our tours.  Therefore, we will visit a lesser-known black sand beach
JOIN THE BEST ICE CAVE TOUR IN ICELAND!
REVIEWS OF KATLATRACK ICE CAVE TOUR
Such an amazing time! Our guide was AJ (Aron), and it was so great to hear history, facts, and folklore from a genuine local to the area! The ice cave tour itself was awesome, and I would definitely recommend it to everyone!"
– Anon
"We booked the Katla Ice Cave Tour and we are so glad we did. It was the highlight of our trip to Iceland. The weather was perfect and the area is simply beautiful. It's like being on another planet. What an amazing feeling to go inside Ice that could be 600-800 years old. Our guide Besie was awesome. He was a wealth of information and so proud of his country and heritage. Thanks, Katlatrack. We will be back."
– Herster
"Our guide Bessi took us on a fantastic trip which can best be described as a mix of the lunar landing, monster truck joyride, geology/history lessons with some good old storytelling thrown in. We chose the Fast Track Ice Cave tour – awesome!"
– Thornblad
KATLA ICE CAVE TOUR– FAQ
Have more questions about our unique ice cave tour? Find out everything you need to know in our FAQ section here.
What do I need to wear on this tour?
The beautiful country of Iceland is known for it's chilly and often changeable weather – so dress accordingly! We recommend dressing in layers to suit a wide range of weather conditions. Your best bet is to wear a light t-shirt, a fleece jacket, and a waterproof top layer/windbreaker. 
For bottoms, lightweight long cotton pants with waterproof pants on top. We advise against wearing jeans, as these can get cold and heavy when wet. 
We also recommend bringing sunglasses and sunscreen (even if it's cloudy) to help you brave the glacier glare. Sturdy hiking boots or snowshoes are also recommended to help you navigate the often rough terrain. For safety, we will outfit you with essential glacier gear, including crampons to fit your boots.
What if I suffer from motion sickness?
When we say "an exciting super jeep ride" it means an off-road adventure on rough terrain. Unfortunately, some people have real trouble with bumpy rides. Usually, we suggest those clients who gets car sick easily to sit in the front seat, so they can look straight ahead at the horizon. Motion sickness pills are available over the counter, consult a professional before taking them. Ginger or peppermint candy also relieve queasiness, we suggest bringing with you. If you get motion sick easily, and it takes a while for that awful feeling to pass, then we do not recommend joining the tour.
What if I suffer from reduced mobility or back pain?
If you're worried about being "too old" to go to an ice cave tour, don't. Many seniors do enjoy hiking well into their 60s, 70s, and even 80s. Our ice cave tours are great outdoor activity that any age group can enjoy. It's a light physical activity, which does not require skills of being in the mountains, but you must be able to walk over uneven terrain for 30-60 minutes. If you worry about falls or other risks, walking sticks could help to provide extra support and stability, we suggest you consider bringing with you.
Our tours are not recommended for guests with severe back pain. We do not recommend it to anyone who has a significant back or neck issue, as the jeeps are bouncy and most of the tours are on a rough terrain on dirt roads with potholes.
What if I suffer from claustrophobia?
We understand that the fear of being in small spaces is really challenging for some of us. If you're concerned about claustrophobia, please contact us at [email protected] and we will give you up to date information about the size of the cave. Usually, the ice cave is spacious and open and should not be an issue to stop you from exploring one of wonders of Iceland.
Can I bring my camera on the ice cave tour?
Yes! We highly recommend that you bring your camera so you can conduct your own ice cave photography tour! There are so many amazing sights to see along the way. Bringing a tripod and extra batteries is also a good idea as well. If you are worried about water damage, we suggest bringing a dry-bag with you. 
Where is the meeting location?
The meeting point is in Vík, next to the OB gas station in Vík. The address is Austurvegur 16, 870 Vík. You can find us on Google Maps under Katlatrack.
Can I bring my children on this tour?
Children aged 12 years old and above can take this tour.  If you have younger children, please take a look at our Fasttrack Ice Cave Tour or our Custom Tours (there are no age restrictions on custom tours).
How many ice caves do we get to see?
On this particular Iceland ice cave adventure, you'll get to see 1-2 naturally-formed ice caves, plus several world-famous glaciers, waterfalls, landscapes, and even the original film sets of multiple well-known movies. Every tour is a bit different, as the glaciers and caves re-from over time. We'll take you to some off-the-beaten-path caves you won't find on any other tour.
What are crampons?
Safety first! Crampons are spikes that attach to the bottom of your hiking boots to help you to walk on the ice without slipping and sliding. They are included in the tour package and our trusted guides will attach the metal spikes for you.
Do I need to bring my own glacier gear and crampons?
Nope! You just need to wear a set of warm clothing fit for the weather – preferably, multiple layers – plus sturdy hiking shoes. We will outfit you with the rest of the glacier hiking gear that you need. 
Do I need to bring lunch with me on the Katla ice cave tour?
You are welcome to bring along your own drinks or snacks, but we recommend that you have lunch either before or after the tour.  You will find some very nice restaurants next to our meeting point.
Where can I learn more about Iceland's famous ice caves?
Want to learn more about Iceland's history and how the ice caves came to be? Check out our Iceland Travel Blog for all the info you need to know about ice caves, Iceland, the best tours, and even more Iceland adventures!
BROWSE RELATED ICELAND ICE CAVE TOURS
Find the best ice cave tours in Iceland from Katlatrack adventures! Browse our most popular glacier and ice cave tours below.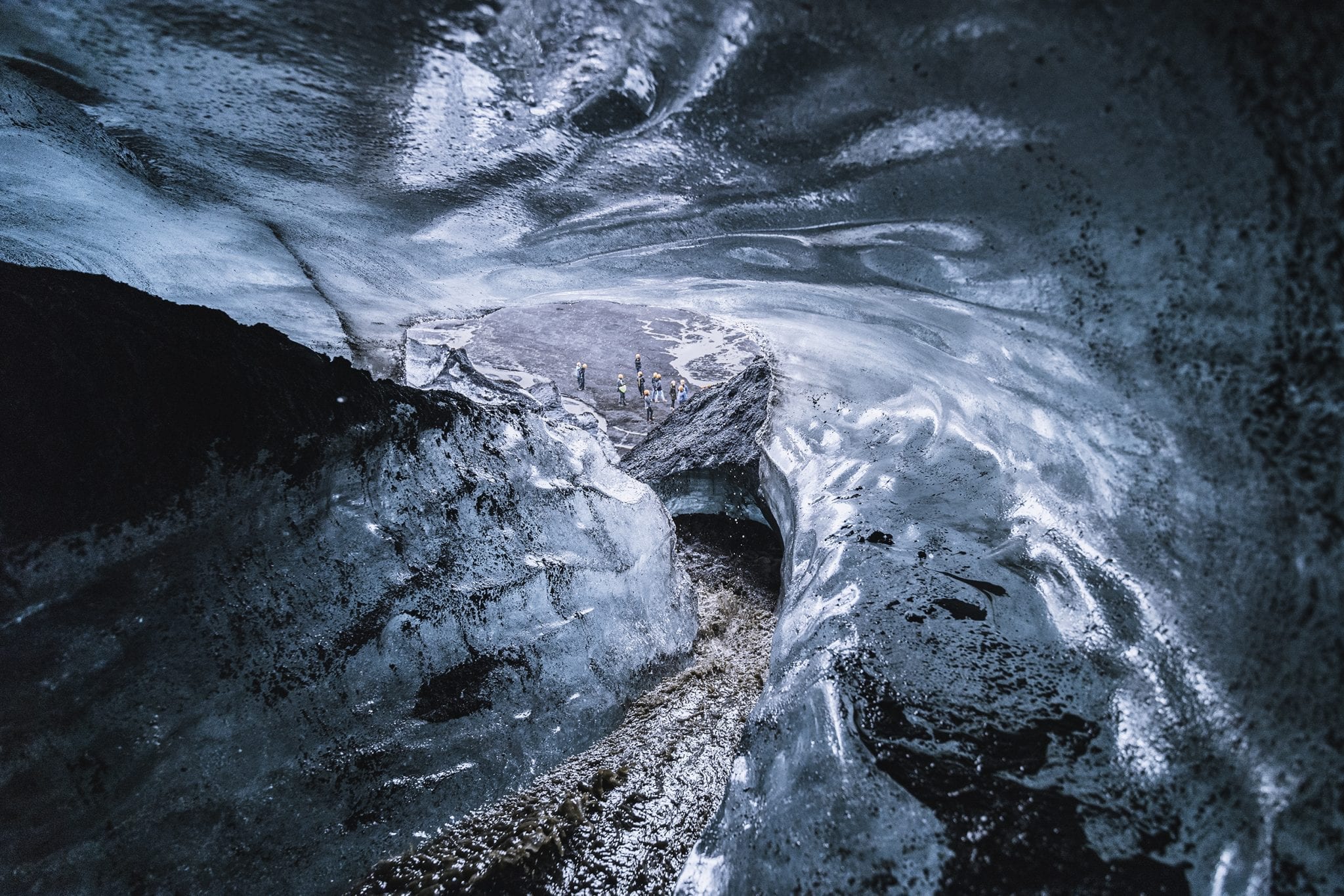 FAST TRACK ICE CAVE TOUR
If your trip is short and action-packed, seeing an ice cave may seem like it would be impossible for you to have on your agenda, but with us, it was never so easy!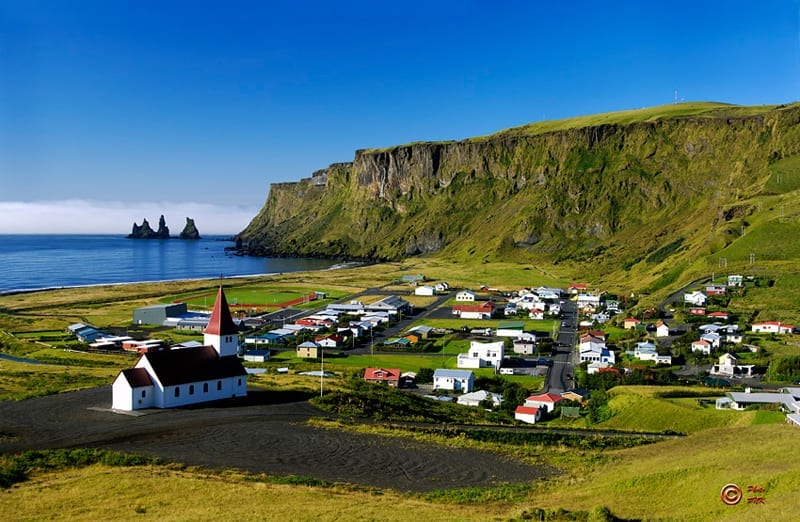 VÍK – ONE HOUR EXPRESS
Give us one hour and we'll show you our home town like no one else can. We promise that you won't see Vik like this with any other tour company.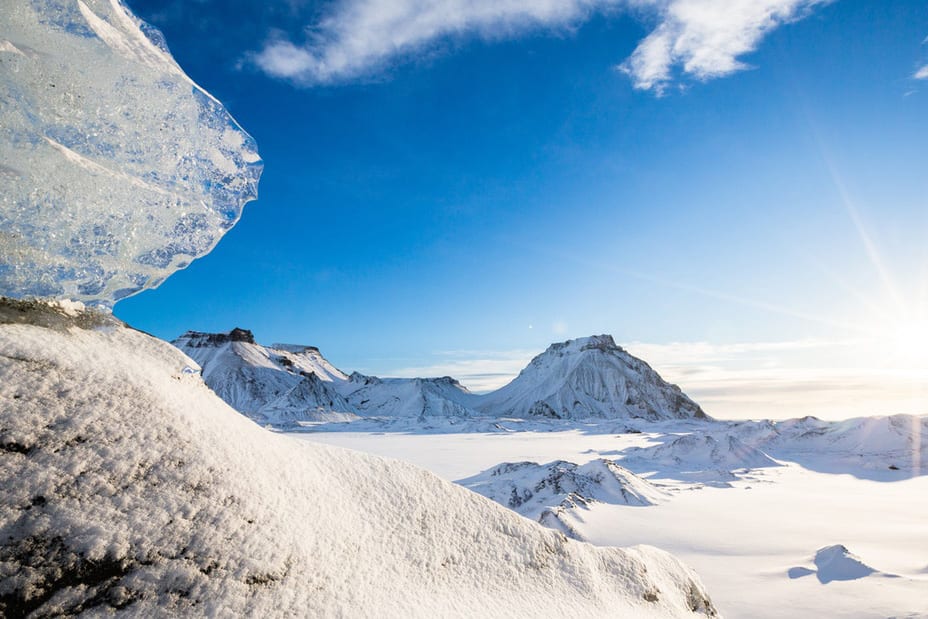 Private Ice Cave Tour
If you prefer to explore Iceland on your own schedule, or with your own group, our Private Ice Cave Tours are a unique and special way to experience one of Iceland's greatest natural wonders.