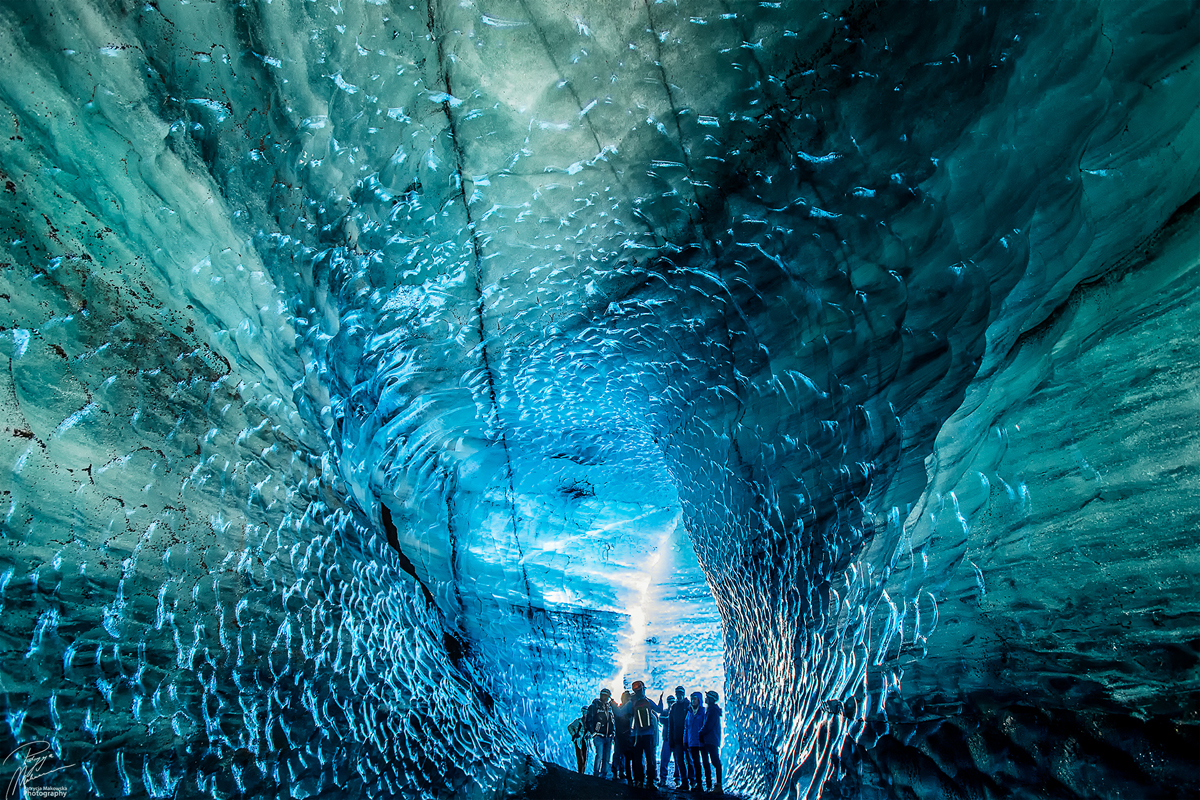 KatlaTrack - The Original Ice Cave Tour Company in Vik.
Since 2009, our team has been the original trailblazing crew that made year-round natural ice caves possible in Iceland.
AGE LIMIT
The minimum age for this tour is 6 years old
Difficulty level
Easy to moderate – based on the weather conditions, feel free to get in touch with us about the current conditions.
Included
A local guide, transportation in a Super Jeep, 45-60 minutes in the glacier Ice Cave area, and all necessary safety gear (helmet, headlamp, and crampons).
What to bring
Please bring warm clothing according to weather, rain gear, hiking boots and gloves.
Keep in mind
This tour might not be suitable for people who are sensitive to motion sickness, or suffer from a back injury. More details on this can be found in our FAQ section below.
Price
16+ years old: 27.900 ISK
6 – 15 years old: 22.900 ISK
ABOUT THE TOUR
Overview of the tour
Hands down the fastest way to experience an Ice Cave in Iceland! If your trip is short and action-packed, seeing an ice cave may seem like it would be impossible for you to have on your agenda, but with us, it was never so easy!
Super jeep ride
Our Katlatrack Team will meet you at our meeting point in Vik Iceland. You will then embark on a beautiful and exciting super jeep ride to the secret area of one of our 13 glaciers (30-60 minute super jeep ride)! Once at the glacier area, you will borrow gear (IE, helmet, headlamp, and crampons) and our local guide will do an educational brief on safety, what to expect, etc.
The glacier hike
You will take a short hike through an amazing glacier area towards the natural ice cave. Our guide will always choose the most accessible and safe path. For increased safety, we maintain a series of paths and wooden bridges during the warmer months of the year. As the glacier constantly changes, the path may differ day to day, same as the look of the ice cave. This makes each tour a unique experience! Nobody would see the natural ice cave the same as you would. We would always make sure you would have enough time to explore the glacier area and take plenty of photos to make this day memorable. 
At the end of the tour
Our local guide will give you a little more insight into how the ice cave was formed and answer any questions you may have. After ample time for your photos and selfies, we hike back out and take the gear off. Then it's time to get you back to the Katlatrack meeting point so you can continue on with your own agenda of discovering Iceland!
Directions to Katlatrack meeting point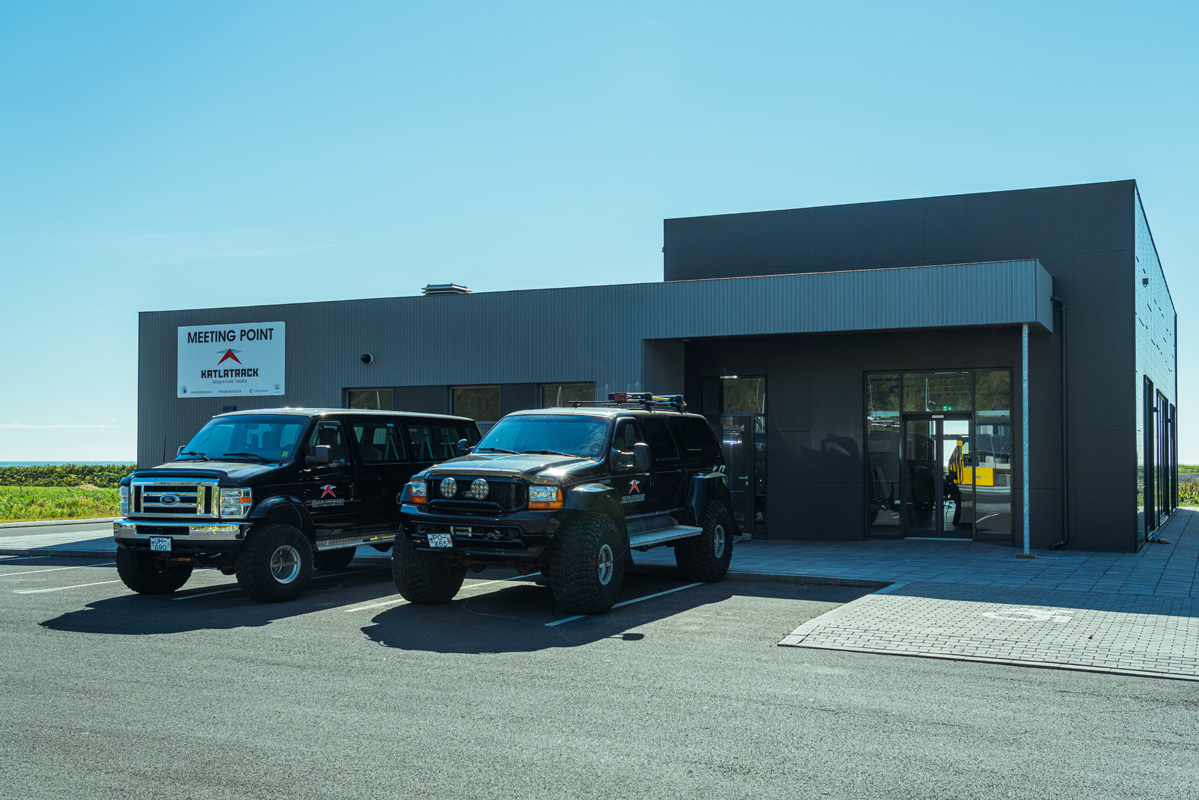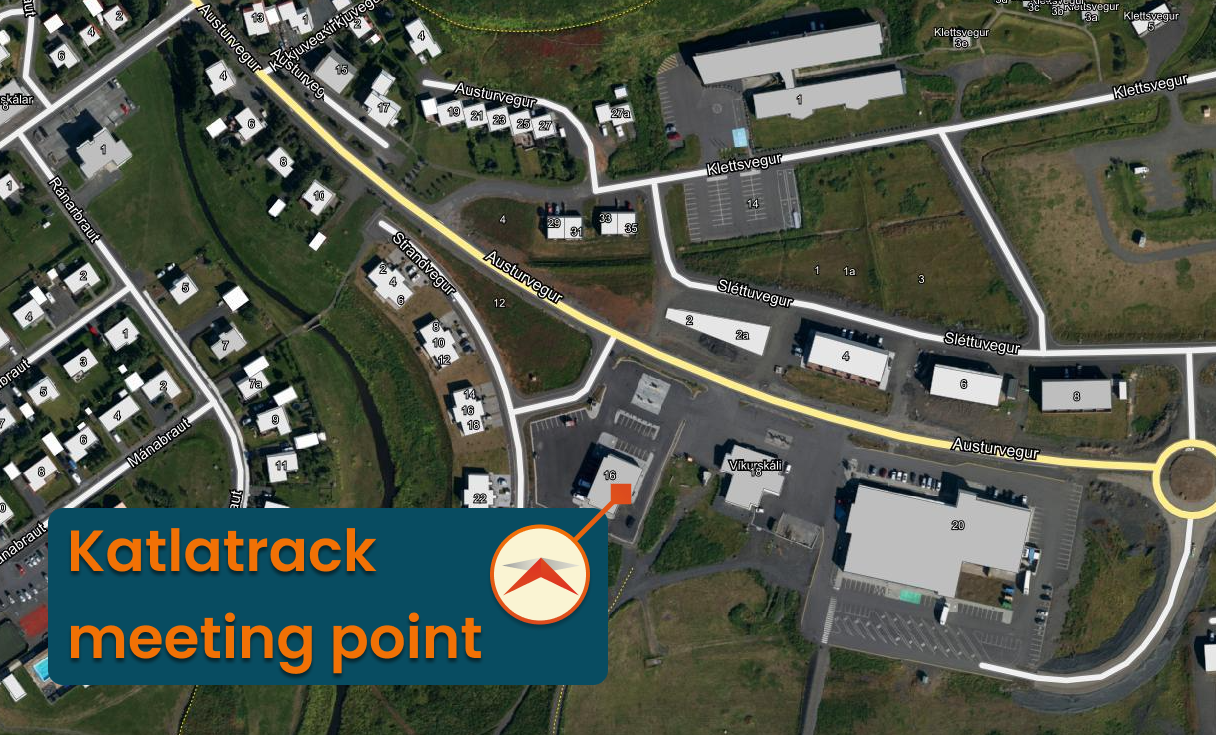 KATLA ICE CAVE TOUR– FAQ
Have more questions about our unique ice cave tour? Find out everything you need to know in our FAQ section here.
What do I need to wear on this tour?
The beautiful country of Iceland is known for it's chilly and often changeable weather – so dress accordingly! We recommend dressing in layers to suit a wide range of weather conditions. Your best bet is to wear a light t-shirt, a fleece jacket, and a waterproof top layer/windbreaker. 
For bottoms, lightweight long cotton pants with waterproof pants on top. We advise against wearing jeans, as these can get cold and heavy when wet. 
We also recommend bringing sunglasses and sunscreen (even if it's cloudy) to help you brave the glacier glare. Sturdy hiking boots or snowshoes are also recommended to help you navigate the often rough terrain. For safety, we will outfit you with essential glacier gear, including crampons to fit your boots.
What if I suffer from motion sickness?
When we say "an exciting super jeep ride" it means an off-road adventure on rough terrain. Unfortunately, some people have real trouble with bumpy rides. Usually, we suggest those clients who gets car sick easily to sit in the front seat, so they can look straight ahead at the horizon. Motion sickness pills are available over the counter, consult a professional before taking them. Ginger or peppermint candy also relieve queasiness, we suggest bringing with you. If you get motion sick easily, and it takes a while for that awful feeling to pass, then we do not recommend joining the tour.
What if I suffer from reduced mobility or back pain?
If you're worried about being "too old" to go to an ice cave tour, don't. Many seniors do enjoy hiking well into their 60s, 70s, and even 80s. Our ice cave tours are great outdoor activity that any age group can enjoy. It's a light physical activity, which does not require skills of being in the mountains, but you must be able to walk over uneven terrain for 30-60 minutes. If you worry about falls or other risks, walking sticks could help to provide extra support and stability, we suggest you consider bringing with you.
Our tours are not recommended for guests with severe back pain. We do not recommend it to anyone who has a significant back or neck issue, as the jeeps are bouncy and most of the tours are on a rough terrain on dirt roads with potholes.
What if I suffer from claustrophobia?
We understand that the fear of being in small spaces is really challenging for some of us. If you're concerned about claustrophobia, please contact us at [email protected] and we will give you up to date information about the size of the cave. Usually, the ice cave is spacious and open and should not be an issue to stop you from exploring one of wonders of Iceland.
Can I bring my camera on the ice cave tour?
Yes! We highly recommend that you bring your camera so you can conduct your own ice cave photography tour! There are so many amazing sights to see along the way. Bringing a tripod and extra batteries is also a good idea as well. If you are worried about water damage, we suggest bringing a dry-bag with you. 
Where is the meeting location?
The meeting point is in Vík, next to the OB gas station in Vík. The address is Austurvegur 16, 870 Vík. You can find us on Google Maps under Katlatrack.
Can I bring my children on this tour?
Children aged 6 years old and above can take this tour.  If you have younger children, please take a look at our Fasttrack Ice Cave Tour or our Custom Tours (there are no age restrictions on custom tours).
How many ice caves do we get to see?
On this particular Iceland ice cave adventure, you'll get to see 1-2 naturally-formed ice caves, plus several world-famous glaciers, waterfalls, landscapes, and even the original film sets of multiple well-known movies. Every tour is a bit different, as the glaciers and caves re-from over time. We'll take you to some off-the-beaten-path caves you won't find on any other tour.
What are crampons?
Safety first! Crampons are spikes that attach to the bottom of your hiking boots to help you to walk on the ice without slipping and sliding. They are included in the tour package and our trusted guides will attach the metal spikes for you.
Do I need to bring my own glacier gear and crampons?
Nope! You just need to wear a set of warm clothing fit for the weather – preferably, multiple layers – plus sturdy hiking shoes. We will outfit you with the rest of the glacier hiking gear that you need. 
Do I need to bring lunch with me on the Katla ice cave tour?
You are welcome to bring along your own drinks or snacks, but we recommend that you have lunch either before or after the tour.  You will find some very nice restaurants next to our meeting point.
Where can I learn more about Iceland's famous ice caves?
Want to learn more about Iceland's history and how the ice caves came to be? Check out our Iceland Travel Blog for all the info you need to know about ice caves, Iceland, the best tours, and even more Iceland adventures!
BROWSE RELATED ICE CAVE TOURS
Find the best ice cave tours in Iceland from Katlatrack adventures! Browse our most popular glacier and ice cave tours below.
KATLA ICE CAVE TOUR
Your Iceland adventure begins with a jeep exploration of Katla's secret volcanic ice caves and world-famous majestic glaciers.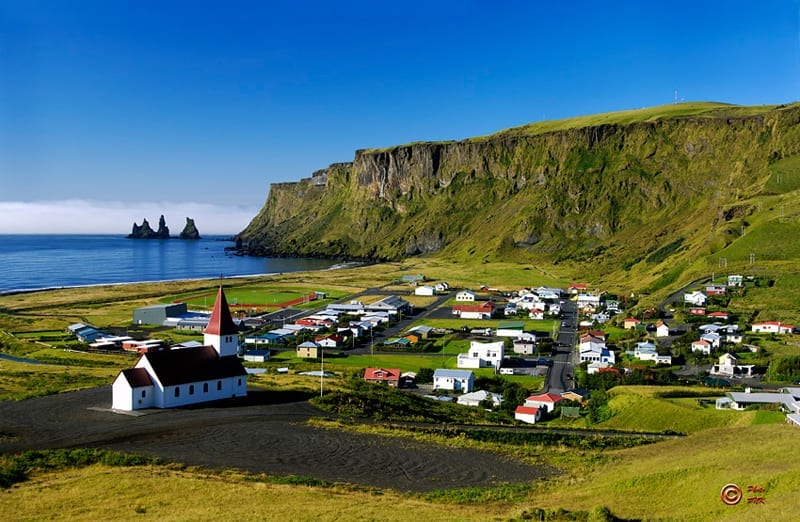 VÍK – ONE HOUR EXPRESS
Give us one hour and we'll show you our home town like no one else can. We promise that you won't see Vik like this with any other tour company.